Bat Release
Bat Release is coming...
SATURDAY, APRIL 28, 2018
We will be releasing more than 300 bats at the Joslyn Art Museum in Omaha on Saturday, April 28, 2018, and for the ninth year in a row, we invite YOU to join us. We will have informational tables and bat activities for children starting at 6:00 PM.  Wildlife rehabilitators will also have bats on hand so that you can get an up-close look at them prior to the release.  A short presentation on the bats will take place at 7:50 PM with the release taking place at approximately 8:00 PM, and lasting about 30 minutes.  You are invited to bring your own picnic supper to enjoy on the lawn at Joslyn prior to the release. Lawn chairs and blankets are permitted, but we ask that no tents or stakes be used.  For the safety of our bats at release time,  PLEASE DO NOT BRING PETS TO THE EVENT. Indoor restrooms will be available until the conclusion of the bat release.  This unique event is free and open to public.
The release will take place if the weather conditions at dusk on Saturday include temperatures in the mid-60s or higher, low winds (approx. 10 mph or less) and no rain.  If any of these adverse weather conditions apply, we will announce the postponement of the release no later than 8:00 AM on Saturday, April 28th and will notify the public through our Web site, Facebook, and an e-mail to all recipients on our general e-mail list.  We will also release a notice to the media at that time, which will include the new release date if known.
NWRI believes that this event is the only one of its kind in the U.S., when the public is invited to watch a large number of bats released back into the wild.  We are proud to share this unique opportunity with our community and to serve as ambassadors for these unique and beneficial animals.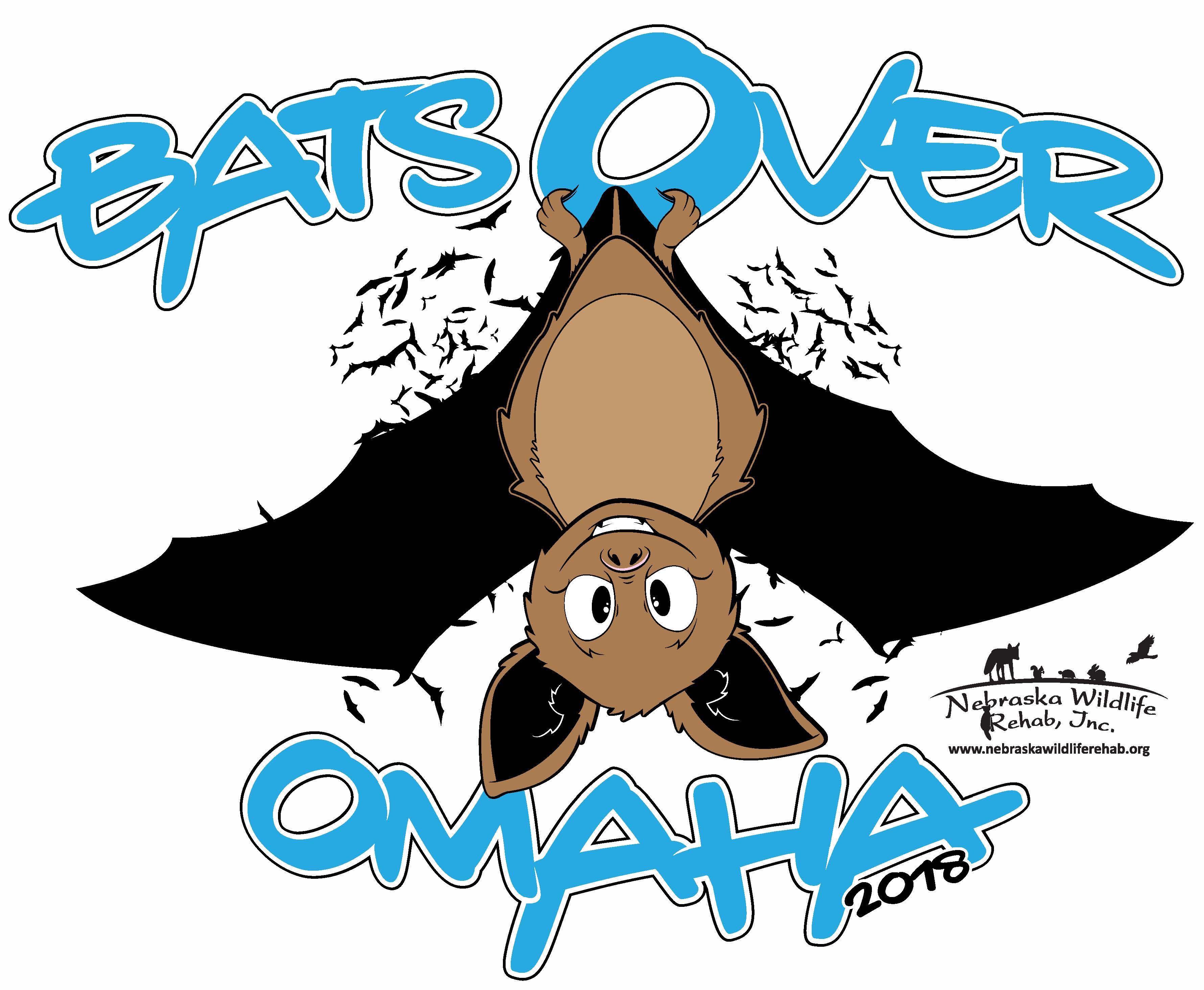 What It Is
Each spring, NWRI releases over 200 bats back into the wild, after taking care of them all winter. These bats are mostly big brown bats, but don't let the name fool you! An adult big brown bat weighs less than 1 ounce!
We release our bats at the Joslyn Art Museum at 24th and Dodge in Omaha and we invite the public to join us.  There are activities for children, educational tables, and roving bats to keep the crowd entertained. The public is invited to come as early as 6PM to stake out a spot on the lawn and enjoy a picnic dinner.  Bat release takes place at dusk and is generally wrapped up about 45 minutes after it begins. Please leave your dogs and other pets at home for this event, for the safety of any bats that may accidentally end up on the ground.
When to Expect the Release
Bat release can happen any time between the end of March and the beginning of May. We release the bats on the earliest possible date, taking into consideration current conditions, weather forecast, and insect populations. Because this is all about the bats - the release happens when it works for them. We will notify the public 48-72 hours prior to the release, and hope that you can join us!
How to Be Notified of Release Time
Follow us on Facebook or Twitter or join our E-Mail List to be notified when we set a release date!
Why Do We Do It?
We receive hundreds of bats during the winter months when they should be hibernating. Most come from inside buildings where they have set-up winter roosts. All of the bats in Nebraska eat insects. When they are found in buildings in the winter, they must come into rehab, regardless of whether they are injured or not. This is because it is too cold outside for them and there is nothing for them to eat in the winter.

Our rehabilitators treat any injuries and feed the bats until they are of an appropriate hibernating weight. They are then placed in artificial "hibernacula" where the temperature and humidity are closely monitored so they can sleep the rest of the winter away.

In the spring, once there are abundant insects and the free bats are flying, we start looking for a good stretch of weather to let our bats free again. We watch for appropriate temperatures, wind speed, and the threat of rain to decide when we are going to release our bats. Once we set a date, we notify the public that bat release is on!
Bats are extremely critical to our natural enviroment and each individual is important to bat populations in Nebraska. We thank you for caring about bats as much as we do!
Where Do The Bats Go When They're Released?
We release our bats at the Joslyn Art Museum in Omaha each year. This is a fabulous venue for several reasons — First, it allows you to come out and see the release and to learn more about bats. Second, it is close to home for many of the bats. Most of our bats come from eastern Omaha and there is good evidence to support that the bats "go home" when released. This means that when we release downtown, we're giving most of the bats the shortest trip home. If you live in the neighborhood, don't worry — the bats aren't going to make a new roost in your house if you don't have bats there already. They are going to go back to their home roost as soon as they can.