My Work is Wild - Kristopher Stahr, Aquatic Invasive Species Program Manager, Nebraska Game & Parks Commission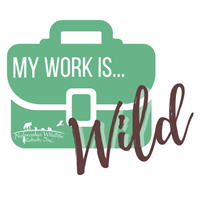 My Work is Wild is a 2021 Zoom series will explore non-traditional careers working with wildlife and animals. Each month will feature a new expert who will share with us via Zoom their educational and career path - experts like wildlife veterinarians, conservation officers, zookeepers, herpetologists and more! Geared toward high school students, but open to the entire family, My Work is Wild will be online once a month starting in January.
Kristopher Stahr has his Bachelors of Science in Fisheries Sciences from South Dakota University and his Masters of Science in Fisheries and Aquatic Ecology from Oklahoma State University. Mr. Stahr works to conserve endangered fish species by creating innovative approaches to improve the long-term survival of threatened and native fish species and understanding the effects of invasive species on sport and native fish populations.
Kristopher is an Iowa native who has worked in the Nebraska Sandhills and Iowa, and also spent 5 years with the Arizona Game and Fish Department. He is a member of the American Fisheries Society and several regional and national aquatic invasive species panels and task forces.