My Work is Wild - Dennis Ferraro, Professor of Conservation Biology & Herpetology, UNL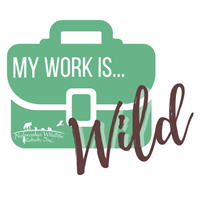 My Work is Wild is a 2021 Zoom series will explore non-traditional careers working with wildlife and animals. Each month will feature a new expert who will share with us via Zoom their educational and career path - experts like wildlife veterinarians, conservation officers, zookeepers, herpetologists and more! Geared toward high school students, but open to the entire family, My Work is Wild will be online once a month starting in January.
Dennis Ferraro is a Lincoln, Nebraska native who holds a Bachelors of Science in Zoology from Iowa State University, and two Master of Science degrees in Animal Ecology and Biology from Iowa State University and University of Nebraska- Omaha respectively. He also has an Associate's Certificate in Entomology and began PhD work before taking a faculty position with University of Nebraska- Lincoln.
Dennis strives for the education, awareness and conservation of the world's herpetofauna and is a member of a plethora of biological organizations including the Society of Conservation Biology, Partners for Amphibians and Wildlife Conservation, the American Veterinary Medical Association and the Nebraska Master Naturalist program.