My Work is Wild - Dr. Judy Wu-Smart,Extension & Research Entomologist, University of Nebraska- Lincoln/UNL Bee Lab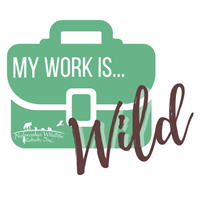 My Work is Wild is a 2021 Zoom series will explore non-traditional careers working with wildlife and animals. Each month will feature a new expert who will share with us via Zoom their educational and career path - experts like wildlife veterinarians, conservation officers, zookeepers, herpetologists and more! Geared toward high school students, but open to the entire family, My Work is Wild will be online once a month starting in January.
With a Masters and PhD in Entomology, you could say Dr. Wu-Smart knows her 'bug stuff'. But when she learned about the rainbow-colored 'Orchid Bee' early in her career, she became immersed in the beguiling world of bees.
Dr. Judy Wu is a California native who currently works at University of Nebraska-Lincoln in the Entomology department. She has co-written an arms-length of scientific papers and won several awards in her field- she focuses her career on pollinator health and conservation. She is also the current president of the American Association for Professional Apiculturists, an active member of the Entomological Society of America, and a board officer of the Nebraska Beekeepers Association.
When not 'saving the bees' she strives to incorporate art, science and nature into her everyday life and has presented at dozens of scientific conferences, guest lectures, industry conferences and public events.