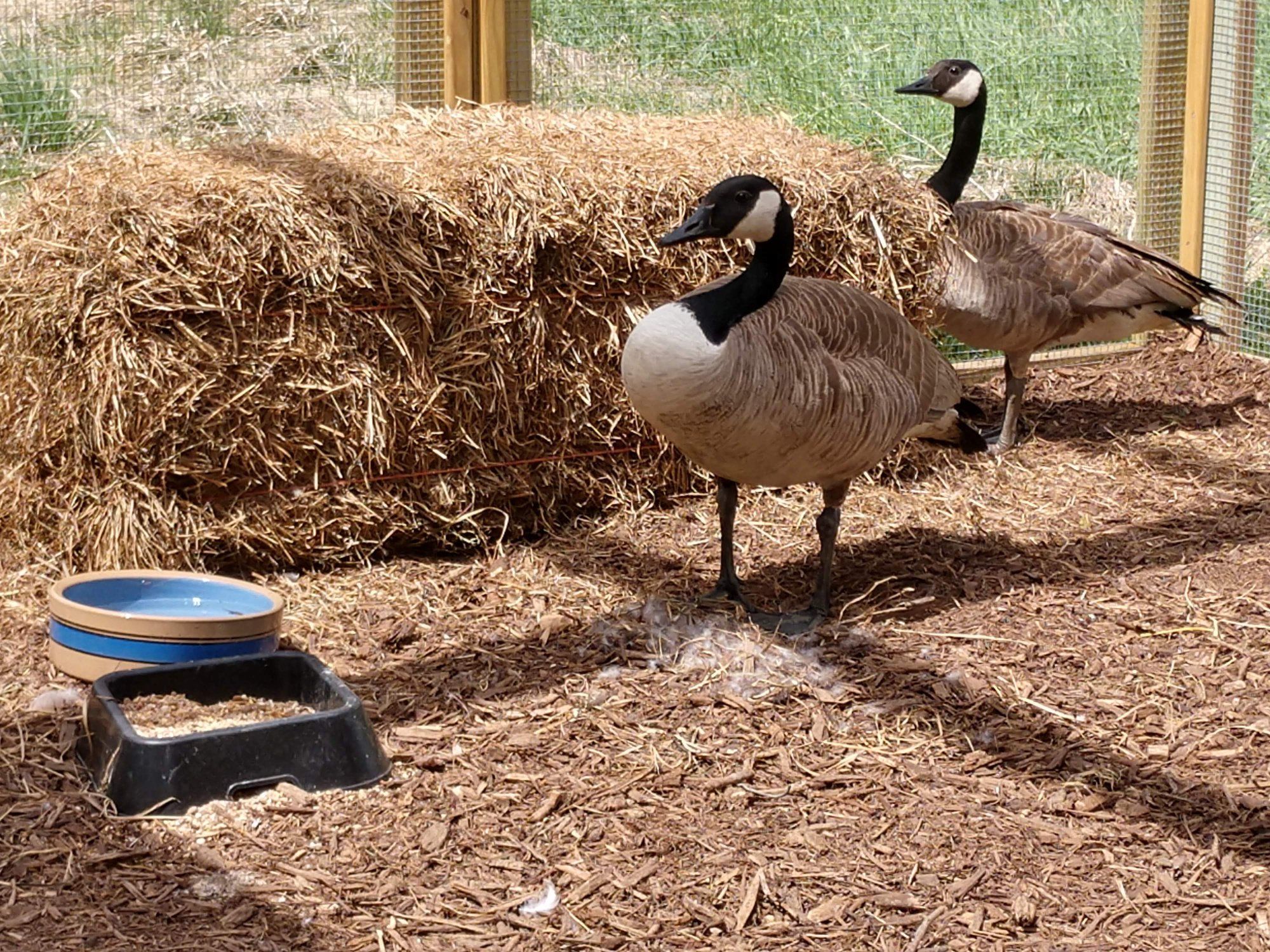 Members of the public have been contacting us since early this spring, concerned about the wildlife that called the Gene Leahy Mall in downtown Omaha home. In order to make way for changes to downtown, work began over a month ago that included cutting down all of the trees on the mall and draining the lagoon. Because so many of you were concerned about the wildlife, we wanted to give you an update.
The first calls that came in were about the squirrels in the trees at the time work began. There were squirrel nests in several of the trees, but unfortunately, the trees came down too quickly for NWRI to make a preemptive plan for those squirrels.  We did receive several babies from the immediate area after the trees were cut down, and are raising those at our Wildlife Center.
Secondly, many people who live and work downtown were worried about the fate of the Canada geese that nest there each year.  Early in the process, we received a sick goose from the draining lagoon.  Sadly that goose died of a toxicity, and we were unable to save him.  As for the other geese, although we were worried about them, we took a watchful waiting approach - hoping that the geese would realize they couldn't nest there any longer and leave on their own. A little over a week ago, we found that at least one goose had laid eggs there, and decided that we couldn't wait any longer (the area is fenced and any goslings that were able to hatch would not have been able to leave). Our director Laura, along with the Nebraska Humane Society's Director of Field Operations, Kelli (on her day off!) and Animal Control Officer Jenn, went out to see if anything more could be done. After assessing the situation, we decided that we had to attempt to rescue the geese we found -- 2 females, each sitting on a clutch of eggs, and 1 male, protecting them both. After some quick net work, all three geese were captured. We carefully collected their eggs and relocated them to our facility. (Kelli also rescued a domestic goose that was all alone by the slides!) After more than a week at our facility, we can confirm that both female geese are tending their nests and all are well so far. We will care for them until the goslings hatch and the family groups can be released back in the wild together.
Finally, there were concerns for all of the fish in the lagoon as it was drained.  Undoubtedly, some of the fish did not survive; however, we are told that the city made arrangements to move as many fish as possible to other sites. This hopefully kept the loss of those animals to a minimum.
We would like to extend a HUGE THANK YOU to all of the people who were worried enough to call us and to our partners at the Nebraska Humane Society who were worried about them as much as we were!
Situations like these give us an opportunity to form collaborations with all parties involved to do better for wildlife in the future. NWRI is actively working to open communication to try to mitigate these issues in the future!