My Work is Wild - Halley Buckanoff, Veterinary Technician, North Carolina Zoo's Wildlife Rehabilitation Center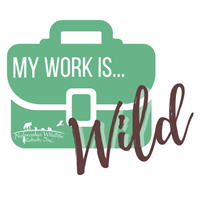 My Work is Wild is a 2021 Zoom series will explore non-traditional careers working with wildlife and animals. Each month will feature a new expert who will share with us via Zoom their educational and career path - experts like wildlife veterinarians, conservation officers, zookeepers, herpetologists and more! Geared toward high school students, but open to the entire family, My Work is Wild will be online once a month starting in January.
Halley Buckanoff has her Bachelors of Science in Biology and is a Certified Veterinary Technician, Certified Wildlife Rehabilitator, and Certified Equine Sports Massage Therapist who currently works for the Schindler Wildlife Rehabilitation Center at North Carolina's Zoo in Asheboro. The Wildlife Rehabilitation Center provides free veterinary care to injured and orphaned native wildlife with the intent of releasing the animals back into the wild.
Halley is originally from Weston, Connecticut and was previously an ornithological field biologist. Currently, she is a Master bird-bander and is curating post-release survival studies on commonly hand-reared orphaned backyard birds. She is a current member of the National Wildlife Rehabilitation Association and the International Wildlife Rehabilitation Council.